This is a list of all Courage the Cowardly Dog episodes.
Pilot: 1994-1996
Season 1: 1999-2000
Episode#
Airdate
Title
Villains
1
November 12, 1999
"A Night at the Katz Motel"
Katz,
Spiders
"Cajun Granny Stew"
Cajun Fox
2
November 19, 1999
"The Shadow of Courage"
Shadow (former)
"Dr. Le Quack, Amnesia Specialist"
Le Quack
3
November 26, 1999
"Courage Meets Bigfoot"
Eustace Bagge
"Hothead"
Eustace Bagge
4
December 3, 1999
"The Demon in the Mattress"
Mattress Demon
"Freaky Fred"
Freaky Fred
5
December 17, 1999
"Night of the Weremole"
Weremole
"Mother's Day"
Ma Bagge
6
January 14, 2000
"The Duck Brothers"
The Duck Brothers (former)
"Shirley the Medium
Box Demon
7
January 21, 2000
"King Ramses' Curse"
King Ramses
"The Clutching Foot"
Big Toe
8
January 28, 2000
"The Hunchback of Nowhere"
Eustace Bagge
"The Gods Must Be Goosey"
Goose God (former)
9
March 2, 2000
"Queen of the Black Puddle"
Black Puddle Queen
"Everyone Wants to Direct"
10
March 9, 2000
"The Snowman Cometh"
The Snowman
"The Precious, Wonderful, Adorable, Lovable Duckling"
Duckling,
Eustace Bagge
11
March 16, 2000
"Heads of Beef"
Jean Bon,
Jean Bon's Wife
"Klub Katz"
Katz
12
March 23, 2000
"The Revenge of the Chicken from Outer Space"
Space Chicken,
Eustace Bagge
"Journey to the Center of Nowhere"
Bobby Ganoush,
Ratatouille (former)
13
March 30, 2000
"Little Muriel"
None
"The Great Fusilli"
Fusilli
Opening Sequence Villains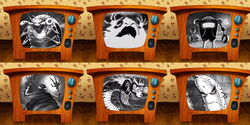 Schwick, McPhearson Phantom, Robot Randy, Mayan Baker, Carmen & Banana suit dealer
Season 2: 2000-2001
Episode #
Airdate
Title
Villains
14
October 31, 2000
"The Magic Tree of Nowhere"
Eustace Bagge
"Robot Randy"
Robot Randy (former)
15
December 8, 2000
"The Curse of Shirley"
Eustace Bagge
"Courage in the Big Stinkin' City"
Schwick
16
December 29, 2000
"Family Business"
Basil
"1000 Years of Courage"
Banana People (former),
Monkey,
King Kong
17
January 19, 2001
"Courage Meets the Mummy"
Mayan Baker (former),
Poobah
"Invisible Muriel"
Federal Agents
18
February 23, 2001
"Human Habitrail"
Dr. Gerbil
"Mission to the Sun"
Mustafa al Bacterius
19
March 16, 2001
"Courage the Fly"
Di Lung
"Katz Kandy"
Katz
20
April 6, 2001
"Nowhere TV"
Le Quack
"Mega Muriel the Magnificent"
Computer (former)
21
April 13, 2001
"Bad Hair Day"
Ma Bagge
"Forbidden Hat of Gold"
Golem
22
April 20, 2001
"Serpent of Evil River"
Carmen (former),
Captain
"The Transplant"
Eustace Bagge
23
October 26, 2001
"Car Broke, Phone Yes"
Alien Brain Visitor,
Alien Brain Boss
"Cowboy Courage"
The Whip
24
November 2, 2001
"Evil Weevil"
Jeeves Weevil
"McPhearson Phantom"
McPhearson Phantom,
Ma Bagge
25
November 9, 2001
"The House of Discontent"
Spirit Of The Harvest Moon
"The Sand Whale Strikes"
Sand Whale (former),
Ma Bagge
26
November 16, 2001
"The Tower of Dr. Zalost"
Dr. Zalost (former),
Rat (former)
Opening Sequence Villains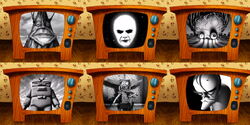 Transcript The Magic Tree Of Nowhere, Spirit Of The Harvest Moon, Alien Brain Boss, Golem, Violin Girl & Dr. Zalost
Season 3: 2002
Episode #
Airdate
Title
Villains
27
January 12, 2002
"Muriel Meets Her Match"
Maria and Mano Ladrones
"Courage vs. Mecha-Courage "
Mecha Courage,
Di Lung
28
February 8, 2002
"Campsite of Terror"
Raccoons (former),
Eustace Bagge
"Record Deal"
Velvet Vic
29
March 15, 2002
"Stormy Weather"
Storm Goddess (former),
Dog Skeletons
"The Sandman Sleeps"
Sandman (former)
30
June 7, 2002
"Hard Drive Courage"
Hard Drive Virus (former)
"The Ride of the Valkyries"
Valkyries (former),
Trolls (former)
31
June 14, 2002
"Scuba Scuba Doo"
Ma Bagge
"Conway the Contaminationist"
Conway
32
June 21, 2002
"Katz Under the Sea"
Katz
"Curtain of Cruelty"
Floyd (former),
Eustace Bagge
33
June 28, 2002
"Feast of the Bullfrogs"
King Buffo,
Bullfrogs
"Tulip's Worm"
Tulip Worm,
Tulip
34
July 5, 2002
"So in Louvre are we two"
Mona Lisa (former),
The Thinker (former)
"Night of the Scarecrow"
Scarecrow (former)
35
July 12, 2002
"Mondo Magic"
Mondo
"Watch the Birdies"
Mother Vulture (former)
36
July 19, 2002
"Fishy Business"
Fishsionary,
Octopus (former),
Sea Judges (former),
Lobsters (former)
"Angry Nasty People"
Benton Tarantella,
Mr. Nasty,
Eustace Bagge
37
July 26, 2002
"Dome of Doom"
Evil Plants
"Snowman's Revenge"
The Snowman (former)
38
August 2, 2002
"The Quilt Club"
Elisa and Eliza Stitch
"Swindlin' Wind"
Eustace Bagge
39
August 9, 2002
"King of Flan"
King of Flan
"Courage Under the Volcano"
Volcano God,
Chief Wicky Wicky
Opening Sequence Villains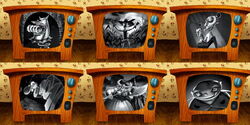 Transcript Mecha Courage, Scarecrow, Elisa and Eliza Stitch, Hard Drive Virus, The Valkyries & King of Flan
Season 4: 2002
Episode #
Airdate
Title
Villains
40
September 6, 2002
"A Beaver's Tale"
The Beaver (former)
"The Nutcracker"
Dancing Rats
41
September 13, 2002
"Rumpledkiltskin"
Rumpelstiltskin (former)
"House Calls"
Gerhart's House (former)
42
September 20, 2002
"Le Quack Balloon"
Le Quack
"Windmill Vandals"
Windmill Vandals
43
September 27, 2002
"The Uncommon Cold"
Big Bayou
"Farmer-Hunter, Farmer-Hunted"
Eustace Bagge
44
October 4, 2002
"Bride of Swamp Monster"
Swamp Monster (former)
"Goat Pain"
Goat (former)
45
October 11, 2002
"Muriel Blows Up"
Evil Carrot
"Profiles in Courage"
Silhouette Maker (former)
46
October 18, 2002
"The Mask"
Kitty (former),
Mad Dog,
Mad Dog's Minions
47
October 25, 2002
"Squatting Tiger, Hidden Dog"
Evil Empress,
Di Lung,
"Muted Muriel"
Giant Starfish
48
October 25, 2002
"Aqua-Farmer"
Dolphin Trainer (former)
"Food of the Dragon"
William (former)
49
November 1, 2002
"Last of the Starmakers"
Eustace Bagge,
Space Whale,
The General,
Federal Agents,
Federal Scientists
"Son of the Chicken from Outer Space"
Space Chicken's Son (former),
Space Chicken's Wife
50
November 8, 2002
"Courageous Cure"
Captain Lazzo (former),
Jay (former)
"Ball of Revenge"
Eustace Bagge,
Katz,
Black Puddle Queen,
Weremole,
Le Quack,
Cajun Fox,
Big Toe
51
November 15, 2002
"Cabaret Courage"
Ulcer (former)
"Wrath of the Librarian"
Librarian,
Eustace Bagge
52
November 22, 2002
"Remembrance of Courage Past"
Cruel Veterinarian
"Perfect"
Perfectionist
Opening Sequence Villains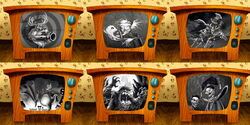 Transcript Buck, Silhouette Maker, Windmill Vandals, William, Swamp Monster , Evil Empress and Di Lung
Specials
Community content is available under
CC-BY-SA
unless otherwise noted.