Online Games featuring Courage the Cowardly Dog have been featured on the Cartoon Network website. By the time the show was cancelled, ten games were created.
Code Cracker (The Rat)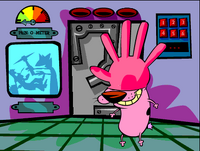 Story / Instructions
The Farmer has been kidnapped by the evil rat dentist! Help Courage save him by cracking the door codes. Courage knows the code, but can't reach the control panel, so he is going to give you clues to help you work out which buttons to press. If you get them all right, you will rescue the Farmer...... again!!!!!
Clues
Podium, Ace
Mittens, Shoes
Blind Mice, Triangle
Broken Window, Clover
Glove, Dice
Eggs, Spider
The Dribbling Dog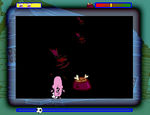 Story / Instructions
Courage is so worried about his soccer skills that he is having an awful nightmare. Help him to master the ball while dribbling through all the obstacles. Collect bones to get extra energy.
Hellbound Hound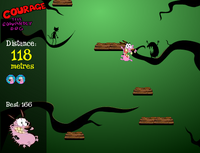 Story / Instructions
Oh dear, Courage has stumbled upon the service entrance to Hades and is heading down, down, down! Guide Courage from platform to platform, dodge the ghouls and avoid falling into the fiery pits below.
Trivia
Snack Attack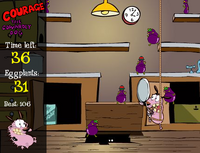 Story / Instructions
Argh! An army of mutant aubergines has landed in the middle of nowhere. Muriel and Eustace have been put into a trance, cloned and shrunken by the evil eggplants and are sleepwalking toward doom.
Trivia
Links